The year was 1992.
Paul Keating was prime minister of Australia. Star Wars was a trilogy, we were using Windows 3.1, Motorola had just released the first hand held mobile phone and CSBP began using a control system software called MacroView.
MacroView was developed by a small Perth team in the early 1990s to manage complex industrial systems. It performed basic process control functions but, uniquely for that time, was able to talk to multiple data sources.
CSBP began managing processes using a single server with a 500-megabyte hard disc.
25 years later, we are onto our sixth prime minister, Star Wars has both prequels, sequels, the latest iPhone weighs less than 150g and delivers 20 hours of talk time, and MacroView is still running process control systems and providing data historians for CSPB at Kwinana, as well as at Albany, Bunbury, Esperance, Geraldton and remote mine sites. The software supports 34 servers with more than 60 systems, collecting 150,000 data points. There is almost 10 terabytes of historical data going back to the nineties.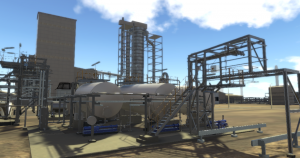 At Kwinana, MacroView is used in dispatch control, monitoring, troubleshooting, reporting, complying with environmental standards, power management, site safety sign control and remote tank monitoring.
Simon Orton, Principal Electrical & Instrument Engineer at CSBP said that "Sentient has been involved in developing solutions tailored to CSBP both within the HMI/historian space and in other areas including virtual reality."
"As MacroView is a locally developed application, Sentient has had the capability to address any shortfalls between what MacroView could deliver and what our business needed."
Some examples of MacroView in action include:
In 2001, the addition of browser access enabled anyone with the right authority to access the system from anywhere. Engineers could see the status of the plant from home, reducing the need for unnecessary drives to site and this facilitated the remote commissioning of a fertiliser despatch plant when the lead engineer was in Mexico.
In 2008, Sentient developed a load shedding application that included screen scraping data from the Bureau of Meteorology and Independent Market Operator web site, reducing CSBP's power costs.
In 2012, Sentient used its cutting-edge technology to develop a virtual, immersive 3D gaming-style training module for operators of CSBP's acid filter press.
In 2017, Sentient developed a virtual reality environment for
the ammonium nitrate emulsion plant.
The flexibility of MacroView has been used to produce a wide range of applications for site operations, safety and compliance.
Sentient Managing Director Doug Bester said:
"In a rapidly changing world, we recognised that continuous development of our technology offering was essential to maintain Sentient's relevance to modern businesses.  Thus the opportunity for collaboration with CSBP on innovative ideas was welcome and has contributed to the overall success of both our companies."
Sentient is now an industry leader in Australia in the use of 3D and virtual reality to provide high impact training, data visualisation of complex industrial sites and simulation of work processes.