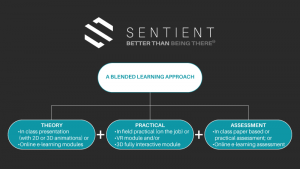 A blended approach to training – the role of Virtual Reality (VR) and other interactive 2D and 3D learning tools
At Sentient we are finding that VR is becoming more accepted within the Resources training space and we are speaking to an increasing number of clients who are looking to add VR to their suite of training products. VR modules allow for life-like multi-user experiences and deployment is becoming easier through portable VR headsets like those in the Oculus suite of products.
We have found that our clients prefer a blended approach to training and that VR often offers greater value as an enhancement to existing training rather than a full replacement. Many of our clients continue to use in-class presentations, potentially supplemented by e-learning modules, to cover the theoretical elements of training.
VR or fully interactive 3D modules are then used to facilitate the practical elements of training. Using this approach has many advantages for clients. High risk procedures can be safely tried out, learners are able to learn by doing, and learner understanding, engagement and retention has been shown to be higher than with traditional training methods. Site operations also do not need to be interrupted for learners to be able to engage with the practical steps of an operation.
At the assessment and post assessment learning phases we find that e-learning is often more helpful than VR as learner scores are easily recorded within an existing LMS.
At Sentient we offer the full range of training content enhancement through e-learning modules, fully interactive 3D experiences and Virtual Reality training modules.
For more information please contact us at info@sencom.com.au